For as long as I can remember, I have been a devotee of the fake tan. Not naturally blessed with the ability to tan in the sun, well at least not without adding to my already abundant myriad of freckles!!
From the early days of high school, slapping on some one colour for all cream that left not only my hands horrifically stained, but my whole body reeking of that distinctive 'fake tan' smell and an uneven mess of tandoori coloured blah!
Then it was the wonder of the Mystic Tan, who can forget the Friends episode where Ross repeatedly tans he's front!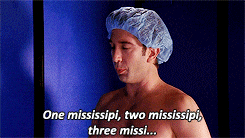 I remember being so excited to try this magical booth of tan delivery and remember desperately memorizing the strict choreography you were told to perform while blindly staring at the nozzles and waiting for that impending spritz of (again) one colour for all tan.
During my years of All Star Cheerleading was where I believe I fully honed my tanning skills. I mean there's nothing like having to get up on stage in a tiny little outfit to motivate you to be as tanned AF!! I went and trained as a Spray Tanner and started tanning myself and my team.
Always looking for the best products out there, I went from green based, to violet, to black, trying different brands all promising the world.
Fast forward to today and the art of tanning and creating tans has become a sophisticated process. And there's a brand called Minetan who's leading the charge.
I recently attended a Tips and Tricks event led by the Tan Angels Pro himself, Sam O'Brien (pictured here) who took us through a detailed update of techniques, dispelled the myths and delivered some serious knowledge bombs. Oh and we also got a spray tan from him!
Suffice to say I was pretty keen to try a particular product in the Minetan fitness tan range called Workout Ready Ft. by Minetan This product promises to not sweat off...so I simply had to put that to the test.
After my spray tan, where I was amazingly not sticky (refer to above knowledge bombs), I liked the immediate bronze of the tan where I looked tanned but not I'd rolled around in the dirt!
I decided to leave it on for the recommended full time for maximum colour development (which is four hours). When I washed it off the tan was a nice colour but not as dark as I'd normally go (but that's just me see below).
Now in case you don't already know this about me, I am a self confessed tan colour dysmorphic, meaning that I reeeeally can never be too dark! Although the Workout Ready is a lovely colour, it wouldn't be my first choice in darkness. But for the middle of winter, this was a nice colour to have. In the future I think I would layer it with a darker colour on top.
On to the sweat test. I worked out each day and sweated up a storm and even after repeated gym sessions and showers the tan is holding nicely and comes up beautifully with a little shimmer moisturiser on top. It didn't wipe off my towel or on my clothes (or bed sheets), which was another bonus as I'm kinda used to having to soak my white gym tops!
So would I recommend this product? The short answer is Yes.
The long answer is I think this a great Monday to Friday tan for the gym goer who wants a tan that lasts all week and looks good while you're working out.
On the weekend or for a special occasion I would use this tan as an excellent base and then layer on something darker or perhaps the Minetan Liquid Bronze, which gives a lustrous sheen to your skin. Sahhh pretty!!!
After the event and being in a tan Utopia, there's a few more products in the Minetan range that I plan on road testing, and I've got my eye on their DARKEST TAN YET (*squeal)....the Absolute Extreme Colour!!
So stay tuned.
If you want to know more about booking a tan with me, please like my page on Facebook, follow me on Instagram OR just jump on over to my webpage.
Thanks for reading x
Please reload